Outhouse Races
Held every year in January on MLK weekend
Register day of race at Conconully community hall between 10:00-11:30am
Show n shine. 11:00am -12:00 noon. Voting for people's choice outhouse & costumes
Parade begins 12:00 noon - followed by the races
Awards: Outside at finish of all divisions
For a quarter of a century outhouse racing has taken place annually in Conconully. The event features head-to-head races within stated divisions with champions being crowned by the day's end. The race course is a snow-covered Main Street. Each entered outhouse may participate in as many divisions as its sponsor can find teams to race. Questions? Call the Chamber of Commerce at 509-826-9050.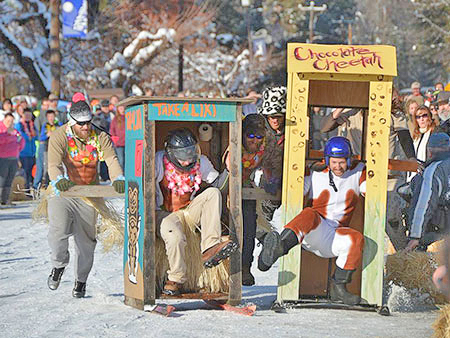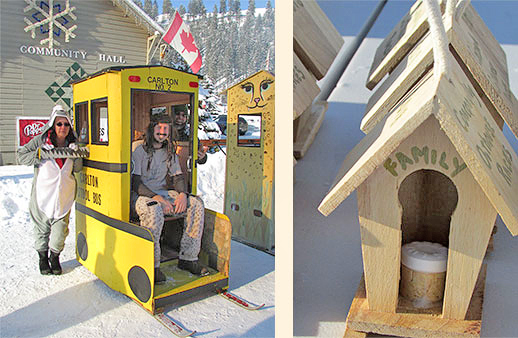 2018 Outhouse Races
Rules of Competition
Privy must be

Frame Constructed of wood, wood products or metal
Mounted on two skis, whatever material they happen to be made of is fine!
Push bar- 2x4 only not to extend more then 24" beyond house
At least 3 sided with full roof
At least 5 ' high including roof peak
At least 2 1/2' by 2 1/2' square
Without motor or steering devices
Equipped with toilet seat and toilet paper on roll
Inspected by race officials prior to race


Teams shall:

Have three members: two pushers and 1 rider
Keep privy under control
Not engage in unnecessary roughness
Include only members who have signed "hold harmless" agreements
Rider must wear helmet


Categories / Divisions

Men (18 and up)
Women (18 and up)
Childrens (7-12)
Teens (13-17)
Family (all ages - all team members are related by blood or marriage)
Seniors (150 total ages or above)
Bucket race (exciting - pushers wear buckets over thier heads while rider directs the race)
Commercial (for businesses local and out of town)
Clydesdale (all entrants over 200 lbs.)
X-TREME (obstacle course)
Peoples Choice (both outhouse and costume)
Trophies awarded after completion of each division
Front of outhouse is the winner crossing the finish line. Not the skis
Registration and inspection of the outhouse is 9:00 to 11:00am Saturday, To Be Announced!, in front of the Community Hall.
The cost for registering an outhouse is $35.
Please move outhouse to "Show and Shine" area after inspection. Location is south of race course
Team members need to be registered as well as the outhouse, there is no additional charge
Registered outhouse may compete in every division
Outhouse members encouraged to decorate and team members encouraged to be in costume
All sharp objects/ horns will be removed after parade
Division winners will receive their awards following the end of the racing day. The winner of the People's Choice Trophy will also be announced during the race.
Decisions of Officials are final
We RACE with or without snow falling. 2014 we brought in snow and will do so again if nature decides to hold off. We are looking forward to another fun filled event next January. See you all there as sitters, pushers or spectators. A great day for young and young at heart.